Follow Us:
Call (215) 350-6594 for Quallet HVAC, Inc.
There IS a perfect system for "your space". We guarantee it!
Project Reviews and Testimonials
Review by:
Mrs. Lee
Project:
Heater repair
Comments:
I am really happy that Joe came out to service our A/C today. He gave me a fair diagnosis and a honest feedback. I've had other technicians looked at it before but they all urged me to replace the unit as soon as possible; so when Joe told me the truth about the unit's actual lifespan, I was pleasantly surprised! Thank you very much for the excellent service! I'd definitely recommend you guys to my friends in the future!
Review by:
Danny O. in Glenside, PA
Project:
Heater replacement
Comments:
I received multiple estimates after our furnace blew up and nothing came close to Quallet Heating. Quallet combines a great price with great service, and part of the reason is that Joe Quallet is involved from beginning to end in the process. We would recommend Quallet Heating to others.
Review by:
Steve and Rachel L. in Oreland, PA
Project:
Central AC install, Mini-split install
Comments:
We were extremely happy with the work that Joe did in our house in Wyndmoor. Joe installed two Fujitsu mini-split systems to give us heat and air conditioning exactly where we wanted it. When we recently moved to Oreland, Joe was the first person we called to have central air added to our new house. Some reno work required us to cut the ductwork leading to our master bedroom so we called Joe out and he installed a Fujitsu split system to give us extremely economical and effective heating and air conditioning. We've since recommended Quallet HVAC to several friends and family members.
Review by:
John and Jeanine N. in Blue Bell, PA
Project:
Gas furnace, air conditioning and tankless hot water heater
Comments:
Joe came out, explained the product in detail and gave us a very fair price. We liked the fact that he was also the installer and not just a salesman so we knew he was concerned with the whole job. We were installing a gas furnace, air conditioning unit and tankless hot water in an older home, so installation was a key concern because we didn't have existing venting for the units. The work was scheduled promptly and completed in a professional manner. Joe, his son and crew did the work over a 3-day period, staying late two nights to make sure we had working hot water and heat before they left. We were very happy with the entire process.
Review by:
Alan H. in Oreland, PA
Project:
Oil furnace to high-efficiency gas converstion
Comments:
Joe and I started off by having a great conversation on the phone! My wife & I were switching over from oil to a high-efficiency gas furnace,and also had some return duct issues. Joe came over to suss out the situation & recommended a Bryant 95% AFUE furnace, & came up with a good solution for our return duct issue. He mailed us his estimate which was a very fair price! He even took some money off when he found an easier way to solve the duct issue! He and his son did a fantastic job, and cleaned up everything when they left. Extremely nice, down-to-earth guys, & very pro! Best contractor experience I ever had! Thanks Joe!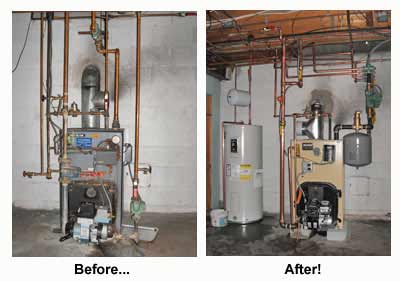 Review by:
Shirley W. in Blue Bell, PA
Project:
Replace a Heat Pump
Comments:
Joe Sr. called, stopped by the house and dropped off a proposal in less than 6 hours. His price was very competitive and he found a $1,000 rebate not offered by our contractor of 22 years....so he was awarded the job. He and his crew arrived as scheduled, were polite, professional and responded to my timely need of a heat pump failure and trying to heat a 3200 sq ft house on resistance heat without breaking the bank. With that rebate, we were able to upgrade to a 17 SEER and a 9.5 HSPF, while the unit replaced was at maximum a 10 SEER and 6.5 HSPF. The work was completed as promised and there was no mess left behind.
Review by:
A homeowner in Abington, PA
Project:
Oil furnace to high-efficiency gas converstion
Comments:
I converted from oil to a high-efficiency gas furnace. Joe explained what I needed to consider in laymen's terms and was honest about some upgrades (useless bells & whistles) that are not worth the money. Unlike other contractors who tried to push their "Cadillac" furnaces, Joe provided a few reasonable scenarios. Even after negotiating other contractors' prices down, all of them were still priced higher than Joe for very comparable units. I appreciated Joe's straightforward no-nonsense proposal. His crew was professional and took care to be tidy. I want to thank Joe for a job well done at a fair price!
Review by:
David S. in Elkins Park, PA
Project:
Install a central air conditioning system
Comments:
Very pleased. Arrived when promised. Offered fair estimate and good advice. Work performed when promised. Helpful follow-up. Helped with manufacturer rebates.
Review by:
Eileen K. in Southampton, PA
Project:
Install new heater and central air conditioning system
Comments:
Joe came to my home, inspected my place, and gave me an explict contract. I had time to look the contract over before signing. Joe and his crew arrived on time the day they had contracted for the heater and air-conditioner to be installed. The work was completed as promised on the same day and there was no mess left behind. Would recommend Quallet HVAC, Inc to any family member, friend or stranger looking for their services.
Review by:
Steve S. in Horsham, PA
Project:
Replace a heat pump
Comments:
My heat pump was 25 years old and I was concerned that it didn't have much life left.. Several contractors responded, but I felt that Joe Qualet offered the best quality equipment and service for the price.. The entire system was replaced in one day. They took great care to protect my carpeting and cleaned up when they were done. They took the time to answer my questions.. I'm really happy with the new system and I'm glad I chose Quallet.
Review by:
Kathy C. in Oreland, PA
Project:
Install natural gas / forced air heating system
Comments:
Very thorough, did a great job in advising the needs of the type of system I needed for my house.
Joe L. in Cheltenham, PA
Great job on installation. Unit is quiet.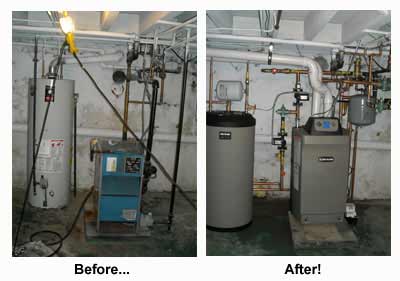 Karla H. in Collegeville, PA
The installation was very quick. I am happy with the product's performance so far!
Helmut S. in Abington, PA
Great experience with the Quallet contractor and his crew. Fujitsu systems are fantastic.
Cynthia K. in Philadelphia, PA
Experienced contractor; nice product. Works well so far.
Chuck W. in Abington, PA
Great experience and service!!
Robert S. in Oreland, PA
Product and installer were fantastic.
Craig G. in Glenside, PA
Great service. Quick response time. Repeat customer. Very happy with the people and the end result! Joe and Joe are a great team!
Sharon P. in Jenkintown, PA
My experience is fine. just got it today
Thomas M. in Philadelphia, PA
The service and installation was great! The system works better than I thought it would. I would recommend Quallet HVAC company to anyone looking to have this unit installed. It is one great unit!
Al F. in Ft. Washginton, PA
Quallet was the only contractor to return my call in a timely manner. I did finally contact others but they were not competitive.
If you are not satisfied with any repair service, inspection, or installation that we provide, we will work with you until you are satisfied or provide a refund.